I started my new job this week as a nanny and tutor for a family in New Mexico. They have land with horses, a dog, a bunny, a cat, and a gorgeous view of the mountains and west side of El Paso. I tell you what; these kids are gonna wear me out this summer!
I pick them up from school at 2:30pm, and then we go back to the house to get a snack and something to drink. I can't even remember everything we crammed into three hours yesterday, but I know it involved spraying down the trampoline with water before jumping and feeding stuff to the horses.
H is six and so adorable. Long blonde hair bundled in a braid, she's a cowgirl at heart. She rides and does tricks and other cool stuff with the horses. A is ten and could figure out how to survive if you dropped in the middle of the dang Death Valley. Both kids are so creative. Today they rigged up the three hoses they have.. two to sprinklers and the third had water running down the slide. I watched from the sidelines as I did not realize I should have worn my swimsuit today. 😉
Before they played Waterpark Tycoon in their backyard, we went "down to the valley". What that means is that we loaded up with Gatorade and went on a short hike through part of their property. Pretty much everything growing had thorns on it, and little miss H trudged through it with her boots on. Yes, red and black cowboy boots.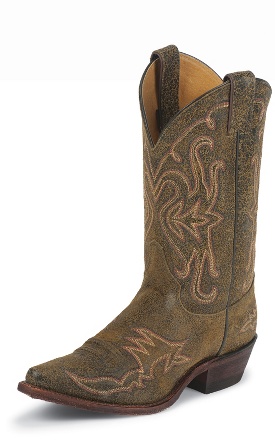 I was smart today and wore my tennis shoes, but can't you see it's imperative that I invest in some real boots so that I can continue on these cross-country adventures! I asked H if we needed to watch for rattlesnakes and what we should do if we see one. Without saying anything she picked up a big rock and a little rock and gave the little one to me. Okay then. Ten-four there, little lady.
After taking a couple pit stops in the shade and drinking Gatorade, we headed back to the house. Lord knows I feel like a city girl if there ever was one.
I made strawberry smoothies after A decided he would try this nasty-looking smoothie made with Gatorade, graham crackers and strawberries. Ewww. Boys are gross. 😉 We watched some iCarly (um, LOVE that show) and chilled in the living room after cleaning up the mud we tracked in. I crocheted a little bit and H asked me if I would show her how to knit. I let her know that it's indeed crochet and I showed her how to make a chain stitch. I think I'm gonna get her one of those fat hooks to work with.
I already have plans for A's birthday in July.. I want to make a paper mache pinata and some watermelon sorbet for dessert.. he said today that watermelon is his favorite food.
I tell you what; this is gonna be a fun ride! Literally, I hope. Before the summer's over I'll be riding horses into the sunset with my amazing tan ropin' me some cows.. or something like that. Just you watch.